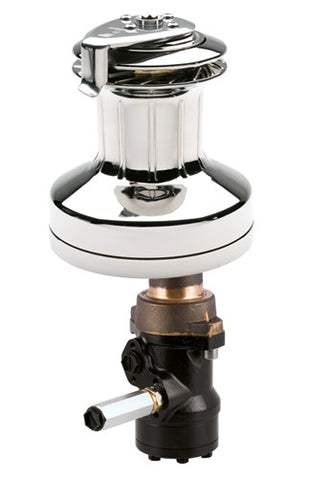 Andersen
WINCH 52 2+1 SPEED HYDRAULIC
Currently Out of Stock
---
WINCH 52 2+1 SPEED HYDRAULIC
SELF-TAILING
Hydraulic Winch Single Speed

ANDERSEN Hydraulic Winches create a solid foundation for distributing power throughout your boat. Smooth running and reliable performance are not the only advantages provided by ANDERSEN Technology – design and versatility are equally important aspects of our products. Single speed hydraulic and two speed manual (2+1) ensures all the versatility and power you need to comfortably handle your sails.

Single Speed Hydraulic Winches can be found on ANDERSEN Winch model 52ST and up -Two Speed Hydraulic Winches on sizes 78ST and 110ST.
| | |
| --- | --- |
| Self-Tailing Hydraulic Winches, Single Speed | |
Product Number
RA2052013100
RA2058013100
RA2062013100
RA2068013100
RA2072013100
Model
52 STH FS - Full Stainless
58 STH FS - Full Stainless
62 STH FS - Full Stainless
68 STH FS - Full Stainless
72 STH FS - Full Stainless
Drum Ø D  (mm)
100
115
115
140
140
Base Ø B  (mm)
200
230
230
280
280
Height H  (mm)
228
267
267
290
290
Line Entry L  (mm)
106
121
121
130
130
Line Size  (mm)
8-16
8-18
8-18
10-18
10-18
Weight  (kg)
23
30
30
41
41
Max
Deck K  (mm)
68
54
54
60
60
Motor Depth J  (mm)
246
252
252
232
232
Gear Width N  (mm)
130
130
130
130
130
Product Number
RA2078013100
Model
78 STH FS - Full Stainless
Drum Ø D  (mm)
170
Base Ø B  (mm)
320
Height H  (mm)
375
Line Entry L  (mm)
170
Line Size  (mm)
16-22
Weight  (kg)
59
Max
Deck K  (mm)
85
Motor Depth J  (mm)
233
Gear Width N  (mm)
-
---
Share this Product
---
More from this collection