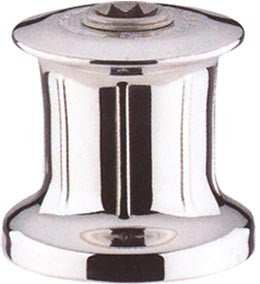 Andersen
WINCH, #10
In Stock
---
WINCH, #10
Classic Winches
Whether you have a smaller yacht, or are just looking for that traditional look, Andersen Classic Winches provide hallmark quality and performance in a simple non self-tailing configuration.
Single and two speed models, suiting conventional top mounted handles are available in sizes 10 to 46 providing a perfect economical solution for trailerable yachts and small keel boats where constant trimming is required.
Traditionally styled, low profile Classic Winches are single speed and available with included base-mounted or below-deck handle configurations. They are standard equipment on many popular classic sailboats of up to 2 ton displacement, including Dragons, H-boats and Folkboats where their beautifully polished finish complements that of the craft.
The single speed operation of the traditionally styled models is also ideally suited to "pumping" operation which is often required in confined cockpits. They are available in nominal maximum deck thickness models, but can also be made to order to suit custom deck thicknesses.
All Andersen Classic Winches feature the Andersen Power Rib™ for safe, reliable grip and controlled release.
| | |
| --- | --- |
| lassic Winches | |
| | | | | | |
| --- | --- | --- | --- | --- | --- |
| | | | | | |
| Product Number | RA500010 | RA500016 | RA500028 | RA500040 | RA500046 |
| Model | Size 10 | Size 16 | Size 28 | Size 40 | Size 46 |
| Drum Ø D  (mm) | 57 | 60 | 70 | 76 | 78 |
| Base Ø B  (mm) | 92 | 114 | 124 | 136 | 143 |
| Height H  (mm) | 89 | 110 | 126 | 140 | 140 |
| Line Entry L  (mm) | 28 | 45 | 53 | 63 | 63 |
| Line Size  (mm) | | | | | |
| Weight  (kg) | 1.1 | 2.6 | 3.2 | 3.9 | 4.0 |
| Gear ratio 1st speed | 1.0 : 1 | 1.0 : 1 | 1.0 : 1 | 1.0 : 1 | 1.0 : 1 |
| Gear ratio 2nd speed | - | 2.0 : 1 | 4.0 : 1 | 6.4 : 1 | 6.5 : 1 |
| Power ratio 1st speed | 9.5 : 1 | 8.3 : 1 | 7.1 : 1 | 6.5 : 1 | 6.4 : 1 |
| Power ratio 2nd speed | - | 16.6 : 1 | 28.6 : 1 | 42.5 : 1 | 45.6 : 1 |
| Max Depth J  (mm) | | | | | |
| Handle Length S  (mm) | | | | | |
| Handle Length R  (mm) | | | | | |
| | | | | | |
| --- | --- | --- | --- | --- | --- |
| | | | | | |
| Product Number | RA510091 | RA510101 | RA510102 | RA510103 | RA510105 |
| Model | 91 | 101 | 102 | 102 | 102 |
| Drum Ø D  (mm) | 51 | 83 | 83 | 83 | 83 |
| Base Ø B  (mm) | 80 | 111 | 111 | 111 | 111 |
| Height H  (mm) | 94 | 89 | 74 | 74 | 74 |
| Line Entry L  (mm) | - | - | - | - | - |
| Line Size  (mm) | - | - | - | - | - |
| Weight  (kg) | 1.0 | 1.5 | 2.0 | 2.0 | 2.0 |
| Gear ratio 1st speed | 1.0 : 1 | 1.0 : 1 | 1.0 : 1 | 1.0 : 1 | 1.0 : 1 |
| Gear ratio 2nd speed | - | - | - | - | - |
| Power ratio 1st speed | 8.0 : 1 | 5.5 : 1 | 5.5 : 1 | 5.5 : 1 | 5.5 : 1 |
| Power ratio 2nd speed | - | - | - | - | - |
| Max Depth J  (mm) | | | 150 | 200 | 100 |
| Handle Length S  (mm) | 240 | n/a | 240 | 240 | 240 |
| Handle Length R  (mm) | - | 254 | - | - | - |
| | | | | | |
| --- | --- | --- | --- | --- | --- |
| | | | | |   |
| Product Number | RA510901 | RA510911 | RA511001 | RA511011 | RA511021 |
| Model | Classic winch handle to suit Model 90 | Classic winch handle to suit Model 91 | Classic winch handle to suit Model 100 | Classic winch handle to suit Model 101 | Classic winch handle to suit Model 102 |
| Drum Ø D  (mm) | | | | | |
| Base Ø B  (mm) | | | | | |
| Height H  (mm) | | | | | |
| Line Entry L  (mm) | | | | | |
| Line Size  (mm) | | | | | |
| Weight  (kg) | - | - | - | - | - |
| Gear ratio 1st speed | | | | | |
| Gear ratio 2nd speed | | | | | |
| Power ratio 1st speed | | | | | |
| Power ratio 2nd speed | | | | | |
| Max Depth J  (mm) | | | | | |
| Handle Length S  (mm) | | | | | |
| Handle Length R  (mm) | | | | | |
---
Share this Product
---
More from this collection