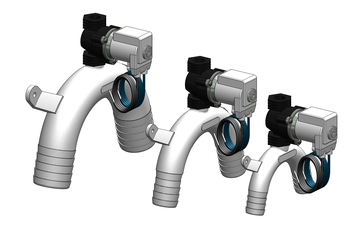 Trudesign
VENTED LOOP W SOLENOID
In Stock
---
VENTED LOOP W SOLENOID
12VDC 38MM WHITE
Solenoid Vented Loop
Designed and made in New Zealand, Tru-Design Vented Loops with Solenoid are the superior composite siphon break solutions for marine applications. Vented Loops prevent water siphoning from underwater skin fittings back into a vessel and thereby guard against accidental flooding and sinking.
Vented Loops are used predominantly in toilet to overboard applications, toilet inlet applications and holding tank to overboard applications. They can also be used in genset or small engine inlet cooling water systems.
A Solenoid controlled Vented Loop allows the vent to be switched to fully closed. This eliminates air entering the system as occurs with a standard vented loop. The solenoid used is normally open, requiring power only to close the valve.
Vented Loops are moulded from a glass reinforced nylon composite. High strength, high-modulus glass fibres impregnated into the nylon provides dramatic strength, stiffness, toughness, and dimensional stability to our loops.
Download Info Sheet
Features
Manufactured from a glass reinforced nylon composite - High strength and light weight
Robust polymer covered solenoid - Long life in the marine environment
Diaphragm valve - Faster breaking of siphon due to larger flow rate available
Female threaded Solenoid Valve - No brass/bronze adapter to corrode
Constant internal diameter - No reduction in flow
Self-contained mounting - 3 screw mounting posts give secure and easy installation
Chemical resistant - Impervious to diesel, petrol and antifouling paints
UV resistant - These fittings will not break down with ultraviolet light or discolour from the sun
High quality surface finish - Will not discolour with green film as similar bronze fittings do
Large operating temperature range - Suitable for all marine environments, from -40°C to +110°C.
---
Share this Product
---
More from this collection