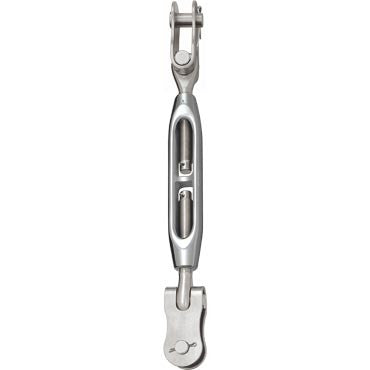 Ronstan
TURNBUCKLE,OPEN BODY,1/4"
Currently Out of Stock
---
TURNBUCKLE,OPEN BODY,1/4"
THREAD,TOGGLE TO TOGGLE
OPEN BODY TURNBUCKLES
Premium Open Body
TOGGLE & TOGGLE, METRIC WIRE
FEATURES
Dissimilar metals
Open design
Fine, rolled threads
Multi axial toggles
| | |
| --- | --- |
| Cable Ø | 3-4 mm |
| Thread | 1/4" UNF |
| A | 7.8 mm |
| B | 9.1 mm |
| C Max | 267.0 mm |
| C Min | 194.0 mm |
| D | 16.8 mm |
| E | 6.2 mm |
| B. L. | 1630 kg |
| Weight | 179 g |
---
---
PRODUCT INFORMATION
Rigging products for swaging have product numbers that are coded to indicate certain dimensions of the product. The first four digits identify the product type. The last two digits denote the thread size expressed in 1/16".Open Body Turnbuckles are made from polished chrome plated high grade brass bodies with grade 316 stainless steel end fittings. This combination of materials not only avoids the risk of excessive thread wear or seizure under load, but also provides the considerable advantage of easier adjustment.
As shown on the accompanying graph, for a given level of torque, up to 47% more tension can be achieved with the Ronstan brass body turnbuckle than with competitors bronze body turnbuckles, or up to 71% more than an equivalent stainless steel body turnbuckle. Conversely, for a given required rig tension the torque required to adjust a competitors bronze or stainless steel body turnbuckle is up to 40% or 75% more respectively than that of the Ronstan brass body turnbuckle.
After tensioning, cross-drilled ends in the threaded terminals enable the use of split-pins to lock and secure the adjustment. For easy thread identification an etched "R" identifies the right-hand threaded end of the body.
As with all Ronstan turnbuckles, toggles are designed with full universal movement for easy installation and connection and allow the assembled cable to move where the structure is subject to wind loads or vibration.
---
APPLICATIONS
Range offers large adjustment to wire rigged boats from dinghies through to keelboats
---
MATERIALS
Grade 316 stainless steel end fittings
Chrome plated high grade brass bodies
---
---
Share this Product
---
More from this collection